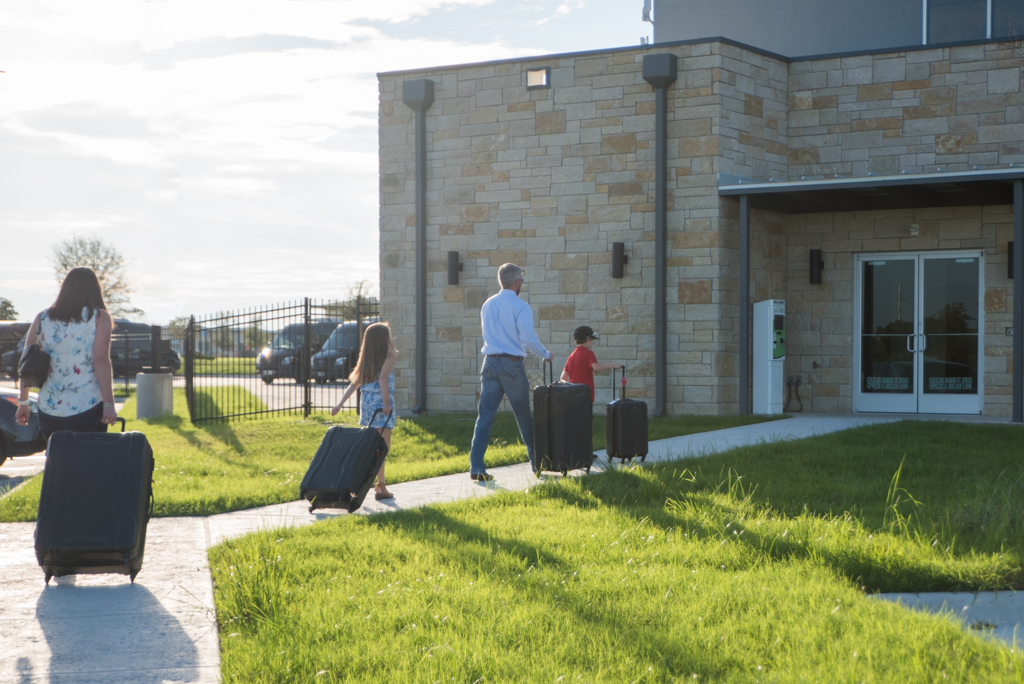 Going on a trip far from home, whether for vacation, business, or some other purpose, requires good planning so that travel is as stress-free as possible. After making travel arrangements and scheduling airport shuttle transportation, the next thing to think about is getting together all that you will need while gone. Packing for long distance travel is a little different than traveling only a few hours from home. To be sure that everything necessary is packed for the trip and not forgotten, a traveler should follow the packing tips referenced below to be ready once shuttle services arrive.
Choose the Right Luggage
The size and type of travel bag used will depend upon how long the trip will be and how many items are required. Start out by estimating the amount and type of clothing required as well as the assorted accessory items and bags shown in the steps below. Then select luggage that is large enough to carry what is need with a little extra room for items purchase while traveling.
Pack A Carry-On Bag
A carry-on bag is important for keeping valuable items and travel accessories together on both the flight and when using ground transportation. Whether using a separate carry-on or combining carry-on duties with a large purse, keep it neat, organized, and large enough to include the following necessary items:
Important Travel Documents – Have an envelope or pouch that contains essential travel documents, such as travel tickets and itineraries, passports and visas, frequent flier and other loyalty cards, personal ID cards, health insurance information, and emergency contact information so they are all easily accessible and safely stored.
Travel Entertainment and Technology – Include in the carry-on bag any tablets, e-readers, or laptops needed during the trip as well as books, magazines and anything else to help the hours pass quickly. Pack headphones and chargers as well, and consider bringing outlet adapters, especially if traveling abroad.
Personal and Health Items – To stay comfortable, bring personal items like a travel pillow, eye mask, small blanket, and earplugs. Include personal sanitary items, hand wipes, motion sickness medicines, eyeglasses and/or contacts with cases, and any prescriptions in their original, labeled bottles. Don't forget snacks for the trip, too!
Pack A Toiletries Bag
The toiletries bag can either be carried on or put inside the main bag. When carrying on, be sure to adhere to TSA standards which limits liquids, gels, and similar items to 3 oz. or less. It must all be carried in a 1-quart, clear ziptop bag for easy inspection. Include daily necessities such as:
Toothbrush, toothpaste, and floss
Shampoo and conditioner
Hair brushes, hair ties and other hair need
Personal hygiene products
Extra contact lenses and solution
Cologne/perfume
Deodorant, shaving needs
Makeup and cleansers
Tweezers, scissors and other grooming items
Facial tissues
Sunscreen if necessary
Including a small sewing repair kit is also helpful. Travel health items like allergy and anti-diarrhea medication, vitamins, cold medicines, and first aid kits can be packed within the main bag. Bring paper copies of any prescriptions.
Pack the Main Bag
After dealing with the smaller items, compile a list of clothing items needed for the trip and begin packing. Be sure to include extra socks and underwear as well as required shoes based on activities. Organize clothing in sections and leave room for toiletry bags and any other separate bags that can fit inside the main bag. Neatly roll clothing to make efficient use of space and push smaller items into empty corners. Include a spare change of clothing on top just in case and close securely.
When it is time to meet airport ground transportation, travelers will have everything they need neatly packed in two bags, ready to travel. With good planning and making lists ahead of time, packing these bags by simply going down the lists should be a breeze. When shuttle services arrive, just toss the bags into the trunk, relax, and enjoy the ride!
Book Today At (844) 832-5257!
Additional Articles:
Traveling With Kids – Ground Shuttle to The Airport And Beyond!
Taxis or Ground Shuttle Transportation – Which Is Better?
Business Travel and the Value of Ground Shuttle Services!
Tipping Advice for Airport Shuttle Services Drivers!
https://blog.groundshuttle.com/wp-content/uploads/2016/06/SmallSize-64-of-130.jpg
684
1024
Carlos Estrella
https://blog.groundshuttle.com/wp-content/uploads/2020/04/ground-shuttle-logo-no-tagline-300x99-300x99.png
Carlos Estrella
2016-06-22 07:36:00
2021-10-17 19:53:52
How To Pack Your Suitcase For Long Distance Travel!