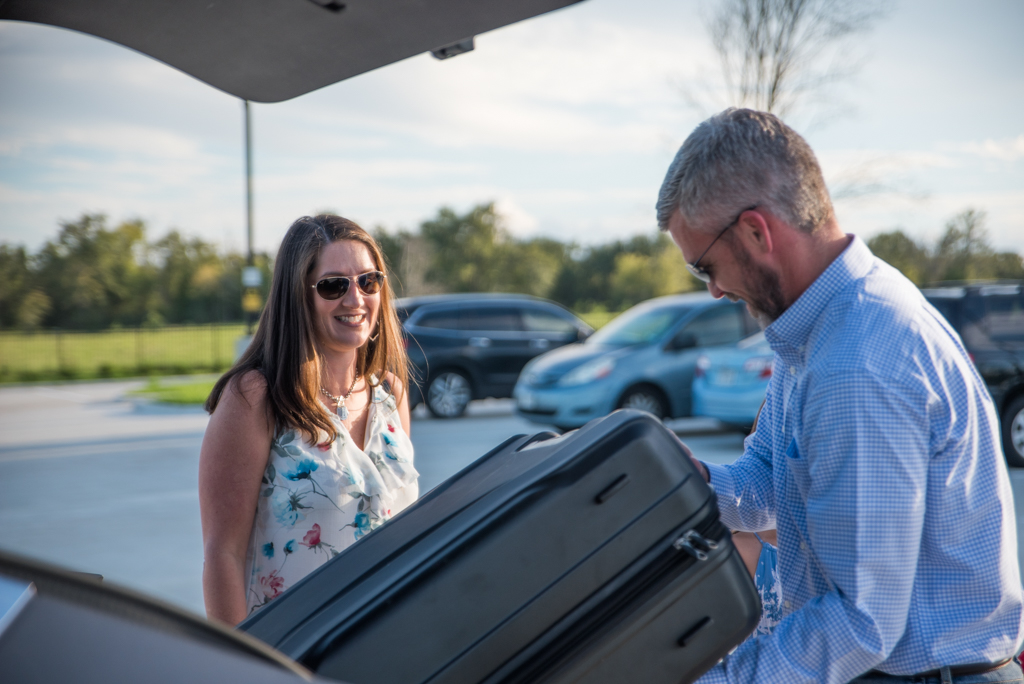 One common thing that most air travelers think about is whether to check their bags after shuttle services drop them off or whether they should carry them onto the plane. Some passengers like to have their suitcases with them on the flight so that upon arrival, they can get right on their shuttles for a quick getaway. Others prefer to let airport services handle them so they can board their flight with little more than a purse or laptop. The decision is different for everyone; however, there are some definite pros and cons to consider.
Bringing Luggage Into the Cabin
Taking luggage into the cabin on a flight can be a lot more convenient for some people; however, there are some definite pros and cons to this decision:
Pros – On the brighter side, carry-on luggage means there is no dealing with bag checking or baggage carousels. After being dropped off by airport services, taking suitcases with them allows travelers to avoid check-in lines and get to their flights more quickly. It also means getting to their ground shuttles more quickly upon landing. Taking suitcases on the plane allows travelers to keep their belongings close by, eliminating the chance of them being lost or delayed. Convenience is also a factor since travelers have everything they need during their trip with them at all times. Putting everything necessary for a trip in one container to take on the plane also promotes lighter, more efficient packing.
Cons – On the contrary, there is a limit as to what can be carried onto the plane in terms of size. Carry on bags must be a certain dimension or they may have to be checked in at the last minute. Considering this, it may be a challenge to get a suitcase stowed on a full flight. Multiple carry-ons can take longer to get through the security checkpoint after being dropped off by ground shuttles. Carry-on luggage is also subject to TSA safety regulations, so this needs to be taken into consideration when packing things like personal care items. There will also be less room for bringing souvenirs and gifts back on the return trip.
Checking Luggage at the Curb or Terminal
After airport services drop passengers off, checking suitcases either at curbside immediately upon exiting the shuttle or at the counter also offers its share of positives and negatives:
Positive – Those traveling for longer periods of time or who need more items can bring what they need in their luggage. Rather than having to deal with multiple carry-ons, passengers can check their bags early and not have to worry about them again until they reach their destination. Checked luggage also makes getting through security easier and faster.
Negative – Unfortunately, checking suitcases does expose passengers to a certain amount of risk that luggage may be delayed, lost, or damaged. Upon landing, travelers must then go to the baggage return area and wait for their luggage with all the other passengers. Most airlines impose a suitcase limit per passenger as well as a weight limit, charging extra for exceeding weight limits. Dealing with checked bags in general can increase overall stress levels on a trip.
So travelers should decide whether to take their luggage with them on the flight or check it based on their need and personal preferences. After arriving at the terminal on the shuttle, handing over bags makes check-in and boarding easier. Carrying bags onto the plane gives passengers more control over their luggage and helps them get to their ground shuttles more quickly upon arrival at their destination. In either case, planning before heading to the terminal with airport services will prevent unnecessary confusion and travel stress!
https://blog.groundshuttle.com/wp-content/uploads/2016/11/SmallSize-62-of-130.jpg
684
1024
Carlos Estrella
https://blog.groundshuttle.com/wp-content/uploads/2020/04/ground-shuttle-logo-no-tagline-300x99-300x99.png
Carlos Estrella
2016-11-18 05:33:00
2021-10-17 19:54:01
Carry-On vs Checked – Which Luggage Option Is Best?