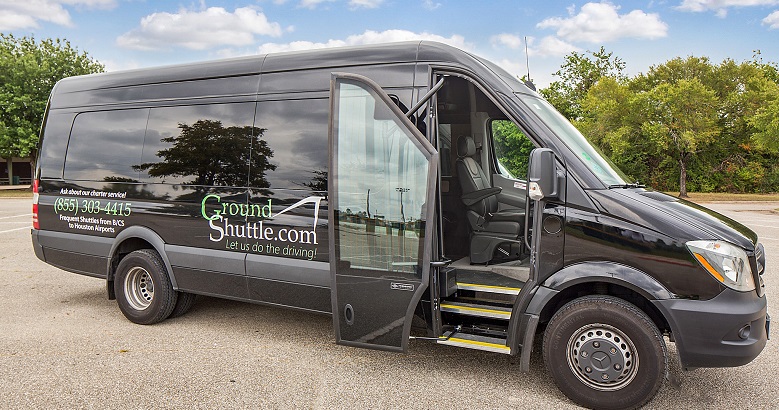 When getting to the airport on time is critical, you need ground shuttle services you can depend on. For years, Ground Shuttle has proudly offered convenient airport shuttle services to those flying in and out of Houston Texas airports, including Houston Hobby Airport and George Bush International Airport.
By offering the best ground shuttles in the area, we have helped you get to and from these nearby airports in style and comfort. In doing so, we've found some ways to improve our service even more.
Ground Shuttle Announces New Shuttle Terminal
On May 1, 2018, Ground Shuttle began operating out of our new home terminal in order to provide better, more timely service to all of our customers.
As a result, we will no longer be meeting customers bound to or returning from the Houston airports at our former Easterwood Airport terminal address with our ground shuttles.
Instead, we have begun providing airport shuttle services from our new Ground Shuttle Terminal location which should be more convenient for everyone. Our new GS Terminal address is 1450 Old Arrington Rd, College Station TX 77845
In moving the home terminal of our ground shuttle services to a new location, we at Ground Shuttle intend to provide you with greater comfort and more convenience. Those traveling to and from the Houston airports will no longer have to deal with inconvenient pickups or drop-offs at Easterwood Airport nor will you have to tag along for home pickups or drop-offs along the way.
The new GS Terminal is the last stop on the way to Houston and the first drop-off on the way back. We expect this to give you, our customers, more accurate arrival times in College Station and less travel around the area to pick up other passengers.
If you still want to be picked up or dropped off at Easterwood Airport, we will be happy to provide the service as a home pickup for the extra $10 normally charged for home pickups.
Contact Us For More Details And Great Service
Although we will now be offering more convenient ground shuttles from our new location at 1450 Old Arrington Road, our fare of $35 for service to IAH and $50 for Austin will stay the same. To ensure we pick you up at the right location and to answer any other questions you may have about these changes, feel free to check our homepage at www.groundshuttle.com for more details. You can also call us at (844) 832-5257.
At Ground Shuttle, we are serious about providing the most timely, comfortable, and affordable ground shuttle services. To improve our airport shuttle services for all of our local customers, we are sure adding our own location at our GS Home Terminal will allow us to continue to do just that.
If you have any questions or want to make a new reservation for ground shuttles from either the new GS Terminal location or home pickup/drop-off service, please call us at (844) 832-5257!
Thank You For Being A Ground Shuttle Customer!
https://blog.groundshuttle.com/wp-content/uploads/2019/01/636633762894481585_ground shuttles in college station texas 5583.jpg
410
779
Carlos Estrella
https://blog.groundshuttle.com/wp-content/uploads/2020/04/ground-shuttle-logo-no-tagline-300x99-300x99.png
Carlos Estrella
2018-06-04 04:33:00
2021-10-17 19:53:31
Come Enjoy The New Ground Shuttle Home Base!