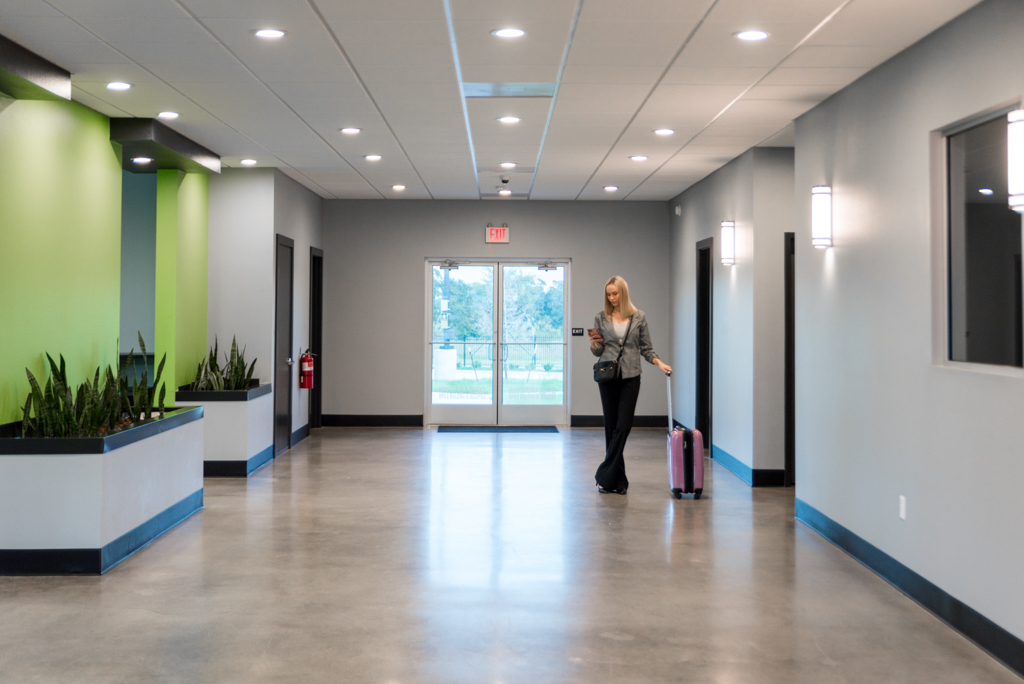 Missing a connecting flight can be frustrating. Scheduling shuttle transportation with a reputable shuttle services company is a great way to ensure you get to your first flight on time; however, what happens beyond that is out of your hands. To reduce the chance of missing a connecting flight, consider the tips below when scheduling flights and ground shuttle transportation so you get to your destination on time.
1. Book the Right Flight
The best way to avoid missed connections is to book a direct flight. When that is not possible, schedule as few connections as possible and always book with the same airline. Avoid booking on the last flight of the day, which is often delayed. If you have a choice of airline hubs, research which airport has the fewest delays and depart via shuttle transportation from that airport.
2. Choose the Right Seat
When you need to make a connection, getting off the first plane quickly is important. Choose a seat toward the front of the plane, preferably an aisle seat. You will be able to grab your carry-on and go much faster than if you sit in the rear of the plane.
3. Be Prepared
Once you are dropped off by shuttle services, make sure you are prepared for fast boarding on both of your flights. Keep your boarding passes and identification handy; dress and pack to get through security points quickly.
4. Know Where You Are Going
Get a map of the airport where you will land and keep it with your boarding passes. Before your first flight lands, determine where you will be boarding your connecting flight and how to get there. This will avoid losing precious time getting lost.
5. Pay Attention to Schedules
Sign up for airline email and text alerts; watch for flight landing and departure times. In the event that either of your flights is delayed, you will know what is happening and how much you need to hurry to make your connection. Check flight monitors when you land as well.
6. Plan for Possible Delays
When booking your tickets and scheduling ground shuttle transportation, plan for the possibility of flight delays. Be sure you give yourself enough time between connecting flights so you can make your connection with time to spare.
7. Check In Early
One of the easiest ways to save time for all flights is to check in early online. You can either print your boarding passes at home before leaving to meet your shuttle transportation or check in on your phone en route to the terminal and generate mobile boarding passes.
8. Pack Carry-On Bags
Checked luggage can be a problem with tight connecting flights. There is a possibility that it might not make it to the next plane in time. If you are making a connection to an airport that requires you to retrieve your bags and check them again for the connecting flight, your time will be even shorter. Carry-on bags alleviate many of these issues.
9. Ask for Help
When you start to run into time constraints after being dropped off for your flight by shuttle services, reach out to the airline staff. Tell the person at the boarding counter about your time crunch. They may be able to give you a seat in the front of the plane or arrange for a cart upon arrival to quickly escort you to your connection. Tell the flight attendants as well as those passengers sitting near you of your close connections. Most people will let you leave as quickly as possible so you can make your connection.
Sometimes no matter what you do, you may miss a connecting flight. To avert this possibility, use the tips above when planning flights and ground shuttle transportation. You will have better luck at staying on schedule after you arrive with shuttle services, escaping the chance of missing your first flight ands your connection. Just do not forget to book shuttle transportation at your final destination so your stressful travel day can end on a good note!
https://blog.groundshuttle.com/wp-content/uploads/2017/12/SmallSize-103-of-130.jpg
684
1024
Carlos Estrella
https://blog.groundshuttle.com/wp-content/uploads/2020/04/ground-shuttle-logo-no-tagline-300x99-300x99.png
Carlos Estrella
2017-12-21 03:33:00
2021-10-17 19:53:54
How Can I Avoid Missing My Connecting Flight?