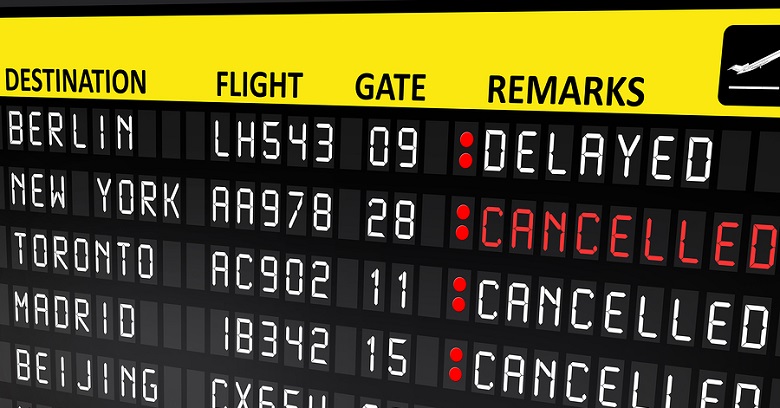 While it is not common, every so often a hurricane or another type of bad weather causes airlines to cancel flights to and from affected airports. Considering all the pre-planning you have done, from booking your flight and airport shuttle service to getting your bags packed, cancellations can be frustrating.
Cancellations can also leave you wondering what to do, especially if you have already been dropped off by ground shuttle services. Whether your cancellation happens in advance or it is a last-minute change, following are some tips on how to handle your flight and any reservations you have made for airport shuttles.
If Your Flight Cancels Before You Get to the Airport
When severe weather becomes a concern before you leave for the airport, look to your airline's website, social media pages, or flight alerts to find out if your flight is affected. Once you learn that your flight is being cancelled, reach out to airlines and airport shuttle services to discuss changing your travel plans with a representative.
Most airlines allow a few different options when they cancel a flight. These typically include:
Transferring the ticket to another flight with any transfer fees waived.
Full or partial ticket refunds.
Switching the ticket to a new flight and destination, with transfer fees waived.
Do this same thing with any ground shuttle services to cancel and rebook airport shuttles for the new required time.
If Your Flight Cancels While You Are At the Airport
If you have already been dropped off at the terminal by airport shuttle services and your flight is then cancelled, find out whether the cancellation affects only your flight or many flights. Hurricanes can cause cancellations for a day or more. Transferring your ticket to a flight later in the day may not be possible or could result in another cancellation.
Discuss your options with representatives at the airport or call the main customer service number. If it seems you will not be going anywhere soon, reach out to ground shuttle services about transportation back home; however, depending on the weather severity, any travel may be unsafe.
Dealing With Airport Shuttles During Weather Cancellations
While you are finding out your air travel and ticket options, do not forget about any airport shuttles you have scheduled. Call the service at your destination to cancel your reservation since you will not be arriving there at the designated time or make a new reservation if your flight is rebooked.
Next, find out whether you can get a ride home on any shuttles currently leaving the airport. In either case, most shuttle services will accommodate your rescheduling needs if possible when your cancellation is due to unforeseen circumstances such as a hurricane shutting down the airport.
Cancellations due to hurricanes or other severe weather can cause confusion when it comes to airline tickets and ground shuttle services. When cancellations are made by the airlines and are unavoidable, you have a number of options for redeeming your ticket. Just remember to include contacting airport shuttle services in your cancellation and rescheduling plans. A quick phone call is all it takes to change reservations with airport shuttles to your new date and time!
Ground Shuttle Will Get You There On Time!
https://blog.groundshuttle.com/wp-content/uploads/2017/10/Airport-Shuttles-in-Austin-Texas-4133.jpg.jpg
408
780
Carlos Estrella
https://blog.groundshuttle.com/wp-content/uploads/2020/04/ground-shuttle-logo-no-tagline-300x99-300x99.png
Carlos Estrella
2017-10-02 04:33:00
2021-10-17 19:53:38
When Hurricanes Cancel My Flight – What Do I Need To Do?